UPCOMING EVENTS: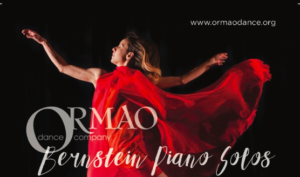 Friday, March 16 7:30 PM — Saturday, March 17 4:00 PM — Saturday, March 17 7:30 PM
Ent Center for the Arts
Ormao has commissioned guest choreographers to create new work inspired by Leonard Bernstein's 'Anniversaries' piano solos. Choreographers include Emily Schoen (Keigwin+Company, NYC), Chung-Fu Chang (Taiwan, CSU Fort Collins), Mollie Wolf (L.A.), Kim Davagian (L.A.), and Janet Johnson (Ormao Dance Company, Colorado Springs). Bernstein's compositions will be artfully played by pianist Reggie Berg in the brand new Ent Chapman Music Recital Hall.
BUY NOW and Save $5 with promo code BERNSOLOS
Offer expires 3/9/18



\