LUNCH BEAT!
Fri, Apr 14, noon-1pm
This is for EVERYONE, all ages, all abilities, just DANCE! Ticket includes 1 hour set with D.j. Prominent and a take away croissant sandwich! Best way to spend your lunch hour…EVER!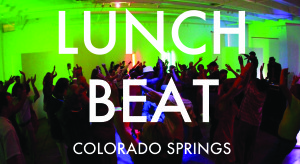 2016-17 SEASON PASS
If you purchased a Season Pass, you can attend ALL of the following events!
One Buddy Pass; a ticket for a NEW Ormao friend to the Fall OR Spring Concert.
Nov 3, 7:30-8:30pm Fresh Juice: Watch the company rehearse as they prepare for the fall concert. (This is a subscriber only event!).
Nov 12-13: Ormao Dance Company's PREPRESS, a NEW site specific piece inside the vacant, former Gazette newspaper building.
Nov 18-19: Ormao Dance Company's Fall Concert. Choose any performance date, no need to decide in advance!
March 2, 7:30-8:30pm Fresh Juice: Watch the company rehearse as they prepare for the spring concert. (This is a subscriber only event!).
March 17-19: Ormao Dance Company's Spring Concert. Choose any performance date, no need to decide in advance!
Spring Site Specific work, exact date tbd. A collaboration with artist Aaron Graves!
May 7, 6pm Ormao Student Repertory Performance
June 4, 5:30pm Ormao Dance School Recital