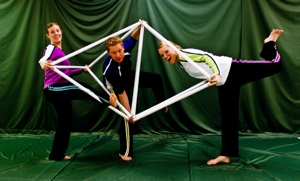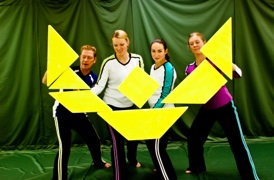 USE DANCE TO REINFORCE MATH CONCEPTS, RIGHT AT YOUR SCHOOL!
Mathtastic: Dancing with Mathematics is an exciting, participatory in-school performance that investigates math concepts using music, movement and a curious collection of everyday objects.
Performed by four professional dancers, the show is designed for 3rd through 5th grade students and educators. The performance poses intriguing questions and links dance to classroom curricula, specifically geometry, shapes and patterns. An accompanying activities packet invites classroom teachers and students to join the creative process. Through this process, using bodies, minds and imaginations, abstract concepts become tangible, understood and remembered.
The show travels to schools and runs approximately 60-75 minutes in length. Includes an activity packet for teachers. Classroom sessions are also possible program additions.
To start the conversation about bringing Mathtastic: Dancing with Mathematics to your school, please contact Naomi Skee via email naomiskee@gmail.com or at 512-577-7154.
MATHTASTIC HAS BEEN PERFORMED/BOOKED AT:
Helen Hunt Elementary School
Fremont Elementary School
West Elementary School
Mark Twain Elementary School
Queen Palmer Elementary School
Pikes Peak Library District
(Briargate, Monument, Sand Creek, Penrose)
Cool Science Festival – UCCS
Imagination Celebration
Dance in Education Team:
David Foster
Naomi Skee
Rochelle Westfall
Kailani Dobson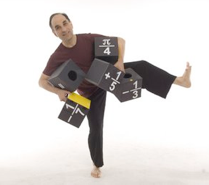 Dr. Karl Schaffer, creator of Mathtastic!
Schaffer has been the co-director of the Dr. Schaffer and Mr. Stern Dance Ensemble for the past 20 years. He and co-director Erik Stern have received five National Endowment for the Arts Access to the Arts awards for their cross-disciplinary performance work linking dance and mathematics. Schaffer has been a keynote presenter on integrating dance and mathematics at numerous conferences on the arts, mathematics, and math education throughout North America. He teaches mathematics at De Anza College, and teaches dance as an independent artist.